COMPANY PROFILE
About Tung Yu
Ever since its startup in 1983, Tung Yu Hydraulic Machinery Co. Ltd. has remained true to its management philosophy, the "Down-to-earth sustainable management" held by Chairman Yang Chen-Pin. The company has established a market presence with "Honest management" with the result that "Tung Yu" brand products are distributed in more than 65 nations around the world under its brand name. Our products are widely acknowledged by industry and recognized by customers for their high brand exposure in the global rubber industry. Tung Yu specializes in the manufacture and distribution of rubber and silicon compression, injection molding machines, conveyor belt compression, tire retreading compression, solid tire machines, and hydraulic machines. We have recently expanded our business from rubber industry to other realms such as the consumer electronic industry as well as aeronautics, photoelectric, medical,and composite materials.

Tung Yu provides comprehensive pre- and after-sales support and delivers the best products, technical consultation, plant establishment planning, turnkey project consulting, quick customer service, and customer's operator training. We maintain a well established brand image that is both professional and outstanding. We take pride in our professional R&D team that specializes in mechanical, electrical and hydraulic systems design and construction. The company holds numerous product patents around the world and constant product development and innovation ensures our leading status. Tung Yu has attained the ISO 9001 international quality assurance standard and products are certified by EMC testing, have the EU CE MARK of safety standard and comply with OSHA requirements. Stringent control of product safety and quality ensures customer satisfaction which serves as a frame of reference for all our operations .

We will continue to focus on the core elements of our business, force and heat and forming technology innovation, which shall remainthe basis of our operations. We shall also continue to lead our customers towards joint-innovation in the development of comprehensive forming technologies and the delivery of precision solutions. We will widen the scope of our products and industry domain to expand our market scale and network of products and services. Tung Yu will continue as an innovation driven supplier of force and heat and a leader in forming technology and manufacturing services to give the maximum possible value to our customers.
NEW CORPORATE IDENTITY SYSTEM
1983
Founded in 1983 the name "Tung Yu" (meaning "Jade of the East" in Chinese) was chosen for the new business with aspirations on the part of the founder to turn the company into a jewel of the Asian and global manufacturing industry.


2006
By 2006, decades later, the company had expanded into a global operation. Tung Yu promptly adopted a new corporate identity (CIS) and product identification (PI) system using "Tung Yu" as its central component and the characteristics of hydraulic machinery in the design.
2014
In 2014, Tung Yu took the next step towards globalized operations and redefined its brand spirit as "Forming Innovation –Tung Yu Accomplishes Novelties", which illustrates the company ambition to lead its customers towards joint innovation, achieve remarkable accomp-lishment and usher in a new era.
TUNGYU BRAND HISTORY AND MILLSTONES
1983
1996
1997
2002
2003
2004
2006
2008
2009
2011
2013
2014
2016
2017
2018
1983Founding of"Tung Yu Automatic Control Machinery Co., Ltd. "
1996
Business name changed to "Tung Yu Hydraulic Industrial Co., Ltd. "
1997Implementation of ISO 9001 Quality Assurance System.
2002
Opening of production facility in China - "Tung Yu (Ningbo) Hydraulic Industries Co., Ltd."
Establishment of the Turkish regional agency.
Establishment of the Indian Liaison Office.
2003
Business name changed to "Tung Yu Hydraulic Industrial Machinery Co., Ltd."
2004
Strategic Alliance and Technology Cooperation with French Rep International group. Successfully developed new type RTIP rubber injection molding machine. Rep became the marketing and after-sales service agent of Tung Yu for Europe and all Americas.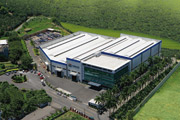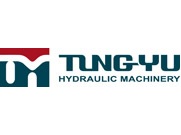 2006
Implementation of ISO 9001:2000 of Tung Yu (Ningbo).
Celebrates move of expanded corporate headquarters to sustainable, green facility in Nantou City.
Implementation of new CIS (Corporate Identity System).
2008
Implementation of PDM system.
2009
Implementation of ISO 9001:2008 quality assurance system.
Ningbo Enterprise Engineering (Technology) Center.
2011
Implementation of brand new product identity system.
2013
Celebrates Tung Yu 30th Anniversary.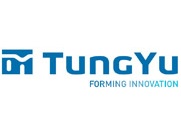 2014
Implementation of global branding CIS.
Cooperate with G-WAY Machinery Industrial Co., Ltd. , we provide more overall products and service in forming and automatic integration.
2016
Establishment of Philippine regional agency.
2017
Establishment of TUNG YU INNOVATION CENTER for creation capacity.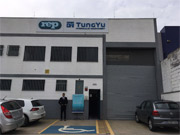 2018Establishment of new showroom in Brazil.