Специализация и инновации
ПРОФИЛЬ КОМПАНИИ
Специализация и инновации
Development of core technologies, research and patents
"Often imitated, Never duplicated" is Tung Yu R&D persistence, the company has established the brand image of flawless quality and maintains a leading position through constant product innovation. Tung Yu has a professional R&D team and a wide range of foreign and domestic product patents for mechanical design, and electrical and hydraulic systems. Driven by the spirit of forming innovation, our R&D teams have worked tirelessly towards refinement and the advanced development of CAD systems and FEA analysis to ensure product quality while for optimized design. Given the need for core technologies for different products, Tung Yu continues to enhance its computer aid design and engineering (CAE) analysis capabilities for heat and force to further expand its product lines and market.
Thermal Fluid Analysis
To improve the heating effective, Tung Yu establishes the analysis ability of heat conductivity for three kinds of heating way-electric heat, thermo oil and steam in order to have the best temperature distribution.
Before
After
2D and 3D Module Simulation
Tung Yu unitize the latest software for 2D, 3D design and has self own R&D engineer /designer which provide fast and accurate drawing/design plan, 3D animation for complicate design, gives easy and complete understanding of customer and ensures our design meets customer's requirements perfectly.
Before
After
FEA Finite Element Analysis
How could Tung Yu be sure the press structure built is firm and strong enough? Compare to traditional manufacturer, Tung Yu utilize FEA Finite Element Analysis with COSMOS software, through several simulation, efficiently modify and improve structure design until it reaches the standard of safety factor.
Before
After
Computer Integrated Manufacturing
Integrated management to system e-Manufacturing and synchronized engineering Simplify documentation process and accelerate the Design Process Production knowledge management. Enterprise Resource Planning System (ERP) Product Lifecycle Management System (PLM) Shop Floor Tracking System (SFT)
Before
After
Certification
ISO 9001
CE
TUV
OSHA
CSA
TECHNOLOGY EVOLUTION HISTORY AND MILLSTONES
1985
1988
1989
1990
1991
1993
1995
1996
1998
1999
2000
2001
2003
2009
2010
2011
2012
2013
2014
2016
2017
2018
1985TYC series Post-Type Compression Forming Machine developed.
1988400 tons Vacuum High Temperature Complexes Compound Molding Machine developed for aero-industries manufacturer.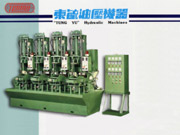 1989THP-V-250 Vacuum Type Keypad Molding Machine developed.
1990
Implementation of CAD / CAM system.
High / Low Temperature Tire Retreading Vulcanization Machine developed.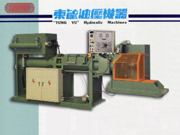 1991
THP-V-100-3RT Oil Seal Vulcanization Molding Machine.
TR-250 Precision Rubber Slicer (Preformer) developed.
1993Vertical 1000 c.c. rubber injection machine was developed and launched in the market.


19953800 tons Sizable Vulcanization Molding Machine developed.
1996
1600 tons Tank Rack Vulcanization Molding Machine developed.
THP Series Fast Vacuum Oil Seal Molding Machine developed for US markets.
1998Technology alliance with "Precision Machinery R&D Center, Taiwan" for CE Mark implementation and achieved EMC quality assurance.
1999
Implementation of MIS system and full computerization.
ROTOCURE Press developed.
2000
Medical / Pharmaceutical Stopper Molding Machine developed.
2001Technical alliance with Japan "Wako Seiki Co., Ltd." for development of fully automatic Horizontal Rubber Injection Molding Machine.
20035,000 tons Conveyor Belt Vulcanizer developed.
2009
Obtained new patent of "drum vulcanizing equipment."
2010
Energy saving rubber injection machine and energy saving servo hydraulic system were developed and launched in the market.
Developed Steel Cord Conveyor Belt Vulcanizing Machine/Line.
2011
Type 32/ type 42 / type 51 new tire vulcanizing machines were developed and launched in the market.
3.6 m ROTOCURE developed.
2012Developed YCP series chip compactor machine to convert chip and scrap into profit.
2013TIP series injection volume 15,000 c.c. and clamping force 1,200 tons Jumbo Size Injection Molding Machine developed.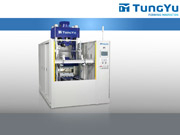 2014Developed all Electric Compression Forming Machine.
2016Brand new concept-iTungYu- Intelligent Injection Molding Machine.
2017Developed 8,000 tons Slab-Side Compression Molding Machine.
2018iTungYu-Efficient Injection Molding Machine with Universal Cold Runner Block(UCRB).